---
Biggles in the Jungle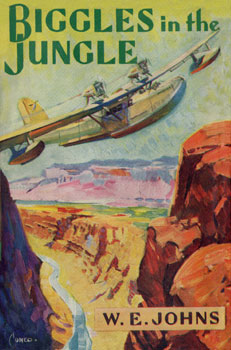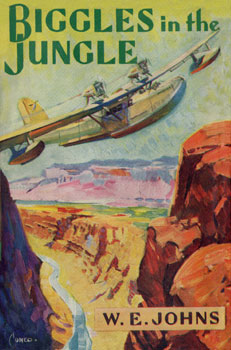 Published
May 1942 - Oxford University Press [H/B]
Reprints
Oxford University Press
Hampton Library
Armada Books

20 Images Online
Goodreads rating

72 %


(120 votes cast)
.
Biggles and the team find themselves in the jungles of Central America and end up assisting the resident magistrate in tracking down the 'King of the Forest', who is stirring up trouble with the native Indians.
goodreads summary
There are jungles and jungles, but the jungles of British Honduras are far deadlier than most. They creep with horrors - like the snake of such size that Biggles' jaw dropped when he saw it.

Biggles flies to Central America on the trail of a so-called King of the Forest, a man who is stirring up trouble among the Indians. The King of the Forest stirs up trouble for Biggles too - a lot. But Biggles - well, he can hold his own!